Air Duct Cleaning and Sanitization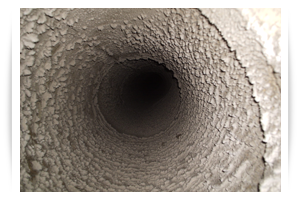 If you want a clean and healthy air duct system in your home, the entire system needs to be cleaned end-to-end. We use high powered external duct vacuums, pressure hoses and cleaning tools to ensure a thorough job. When you choose a duct cleaner make sure you compare methods, reputations and thoroughness of cleaning and complete upfront costs.
How we clean your ducts:
A strong vacuum system will be attached to the supply side of your furnace plenum then the return side.
Your heating system is separated into 2 zones "supply" and "return" and the air filter is removed (as a result the vacuum can work more effectively, resulting in better suction throughout the entire system).
All of the supply registers and return ducts are sealed to create a strong suction.
A single register is opened and a compressed air (175psi) snake/whip is used to "compress air wash" the entire length of the supply duct while the vacuum pulls the dislodged debris out of the system. A number of cleaning heads are used to insure that the entire duct gets cleaned. The register is then resealed and the process is repeated on all the registers in the system.
The "trunk line" (main duct that all the supply lines attach to) is cleaned using the same process.
Furnace filters are reinstalled after cleaning, all registers are unsealed, zone separators removed along with the vacuums from the plenum.
Sanitization is then applied by hooking up an atomizer to the supply plenum. We use a product called "Microban" which helps to control future growth of mold and mildew as well as kill off dust and spider mites.