Dryer Vent Cleaning
Dryer vent cleaning is an important and often overlooked service that improves home energy efficiency, reduces costs and can extend the life of your dryer.
Dryer Vent Facts: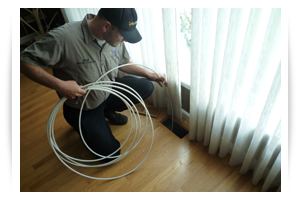 The clothes dryer is the single biggest cause of home fires (over 15,000 annually).
It is estimated that 10 deaths and over 300 injuries are associated with clothes dryer fires annually (U.S. Consumer Product Safety Commission).
A dirty dryer exhaust duct is the single biggest reason for dryer replacement.
Dryer manufactures recommend the dryer duct be professionally cleaned each year for maximum efficiency.
Learn More:
How your dryer vent will be cleaned:
The technician will turn your dryer on to create outward air flow.
Then he will run a snake line that has 175psi behind it and a special tip attached which will break apart the build­up of lint.
He will work from the outside exhaust port and work his way all the way back to your dryer pulling out the debris as he goes.
When you should get your dryer vent cleaned:
Yearly.
When your dryer takes longer than one 50 minute cycle.
If the top of the dryer is hot to the touch.
If you smell or see moisture inside or outside of your dryer.
Lint is visible from your external dryer vent exit.
Or if there is little air flow coming out of the external vent.